Experience excellence in service when you visit us!
We offer a wide variety of top quality services to fit your needs. Our experienced staff will help you determine the best services for your needs and deliver the kind of quality and value you expect from a professional salon and spa . Our location is designed to make your experience enjoyable and leave you feeling inspired! Check out our complete service menu below to get a feel for what we do.
Please note: Service prices and availability are subject to change without notice.




Massage/ Massage Services are currently unavailable. Please check back.
Let your aches and pains melt away with our professional massage therapy.
Our classic chair massage service employs a combination of popular and effective massage techniques to provide amazing results. We strive to make you feel comfortable and relaxed with a customized massage experience. Your therapist will work with you to address problem areas and provide stress and pain relief as well as increased mobility and circulation.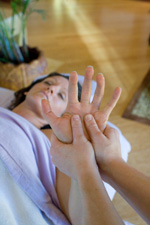 30 minute - $38.00
60 minute - $65.00
90 minute - $92.00
120minute- $124.00
Swedish salon massage is a traditional massage modality which employs effleurage (stroking) and percussion techniques. This is the classic massage style that has proven effective for years in providing stress relief, pain reduction, and increased mobility for trouble spots. Be sure to mention if you are suffering from any injuries or skin conditions before scheduling this service.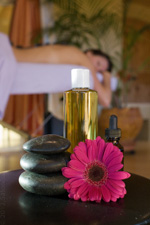 Back & Feet $55.00
Pedicure add-on $10.00
Manicure add-on $10.00
The AromaTouch Technique was created to address four systemic constants: stress, toxic insult, inflammatory response and autonomic imbalance. This Technique uses the benefits of essential oils by stimulating known body meridians while balancing body systems and function.
$72.00 60 mins
$102.00 90 mins
$144.00 120 mins
Deep tissue massage services use greater pressure and work along specific muscular zones to relieve deep knots and tension that has built up in your body. This form of massage can also facilitate the release of lactic acid in your muscles to detoxify and improve circulation. Deep tissue massage is recommended for individuals who have received massage therapies previously and desire a deeper and more intense massage.
This invigorating treatment will exfoliate the skin with the refreshment of massage. Leaving your skin soft and smooth. 30 minutes
Hands, Feet & Scalp Massage
This mini indulgence is a great way to De-stress. Utilizing the key points of the body to totally relax you. 30 minutes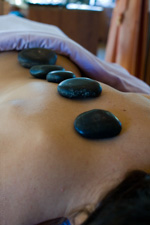 $75.00

Hot stone massage services employ smooth, tumbled stones which are heated and applied to key points on your body to achieve maximum therapeutic effectiveness for your massage service. Experience the healing power of heat combined with a fabulous, rejuvenating massage experience.
Aromatherapy is the process of infusing essential botanical oils into the air to promote relaxation and achieve other therapeutic effects. Aromatherapy can usually be added to massage and bodywork services to enrich and complete your experience.
This specialized massage service is provided to help mothers-to-be with the aches and pains that accompany pregnancy. Sore feet, stress, back pain, and other symptoms can be positively influenced through massage. Our trained therapists have the knowledge and equipment required to provide a safe and effective massage for expecting women. 45 minutes
Return to Top
Service Policy
Your time is precious and so is ours. We want to give every guest the time and attention that you deserve for your service. We do understand that sometimes circumstances arise and you need to make adjustments to your plans. If you must cancel or rebook your appointment, we respectfully request at least a 24-hour notice or 30 minute service and 48-hour for services 1 hour or more.
Please understand that your appointment time was set aside for you. If you cancel your appointment without giving at least 24 hours notice prior to your appointment it will result in a charge of 50% of the service amount. Any "No Shows" will be charged 100% of the service amount.
The cancellation fee will be charged to your credit card. In order to help facilitate a smooth process we will require a credit card on file in our secure salon software.
Our salon booking and cancellation policy is intended to ensure that we have the opportunity to fill all available appointments. We don't want to have any clients on the waiting list to miss their opportunity to fill any last minute cancellations.
We do send out text message reminders the day before your appointment, this is not sufficient time to rebook. We kindly ask for you to please reach out the day before to make any adjustments. Please understand that we're committed to offering you the highest possible level of service during your appoitment with us and by adhering to this policy will help our schedules run more smoothly.
The Staff at Expressions feel very blessed to have such a loyal, fun and loving clientele. But as the world is changing, we felt it was necessary to implement this policy.