Experience excellence in service when you visit us!
We offer a wide variety of top quality services to fit your needs. Our experienced staff will help you determine the best services for your needs and deliver the kind of quality and value you expect from a professional salon and spa . Our location is designed to make your experience enjoyable and leave you feeling inspired! Check out our complete service menu below to get a feel for what we do.
Please note: Service prices and availability are subject to change without notice.




Nail Services
Exceptional services to invigorate and restore the health and beauty of your nails.
Relax and enjoy a refreshing manicure service to give your fingernails a professional, clean and tidy look. We will trim and shape your nails and apply a top-quality professional nail lacquer or polish in your choice of rich colors and glazes.
$35.00
$5.00 for a soak off
This two week polish is ideal for anyone that is wanting their polish to LAST! Available in multiple colors for every lifestyle. Looks like nail polish and wears like a gel!
The Spa Manicure includes all of your basic manicure needs plus an exfoliation treatment with oil massage and your choice of moisturizing paraffin treatment or clay mask.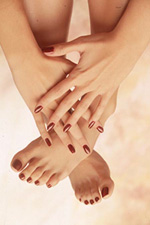 $40.00
Pedicure services are designed to rejuvenate and beautify your feet. Experience the pleasure of a pedicure as we trim and shape your nails and cuticles, as well as addressing hangnails and blemishes. Finish with lacquer or polish of your choice to enhance and protect your nails.
Your feet are placed into a refreshing whirlpool soak to relieve stress & fatigue. The skin is then exfoliated to remove dead skin cells, callus' are softened and a lotion rich with botanicals is massaged into the feet to help rehydrate.Next you may choose a paraffin treatment or clay mask.To finish off this wonderful treatment with your nails shaped and polished. A true AAHHH moment.
$40.00
Artificial nail services will provide you with strong artificial nails which are carefully and skillfully applied to ensure proper fit, alignment and a natural look.
Return to Top
Service Policy
Please call (814)898-3363 or email expressions4525@hotmail.com for our appointment policies.